| | |
| --- | --- |
| Survey on Digital Health | Tuesday, September 19, 2017 |
The connecting South West Ontario (cSWO) Program, which supports the deployment of digital health tools such as ClinicalConnect™ and Health Report Manager (HRM), has identified an important need to raise awareness and understanding of the current and future benefits of digital health in our region.

 

In partnership with the cSWO Program's Change Management and Adoption Delivery Partners, our first step is to better understand the perception of digital health and we want to hear from you!

 

The cSWO Program and its Delivery Partner teams have developed a survey, and the HITS eHealth Office (Solution Provider for one of the fundamental digital health solutions, ClinicalConnect), supports the Program's efforts to increase
awareness about the benefits of digital health in our region. Participation in the cSWO Program's survey is voluntary and all responses are confidential. No identifying information is collected and participation in the survey will not result in any further communications.
The following survey will only take a few minutes to complete.
Click here to start the survey.
This has been a message from the cSWO Program.
| | |
| --- | --- |
| | Hannele Kivinen at 4:00 PM |
| | |
| --- | --- |
| Change Day Ontario is Here | Tuesday, September 19, 2017 |
From September 12 – November 17, the eCE is proud to be supporting Change Day Ontario!
What is Change Day Ontario?

Change Day Ontario is part of a growing global movement that originated in the UK (NHS) in 2013 and was co-founded by a group of young physicians and Dr. Helen Bevan as a way to constructively harness the collective energy, creativity and ideas of thousands of people to improve the care and well-being of those within the health system.

 

The goal of Change Day Ontario is to support people with first-hand experience in the healthcare system to make changes that they feel passionate about through the form of a pledge. The power of the program is in the people behind it and we're looking for people like you to join the movement. 

 

What is a pledge and who can make one? 

Anyone engaged within the healthcare sector is invited to participate by making a pledge.

The pledge, and how it comes to life, is completely up to the individual. It can be anything from spending an hour in an ICU bed to gain insight into a patient experience to taking 15 minutes a week to shadow a colleague to better understand their role.
By making a pledge, you have the opportunity to drive this change and bring a positive change to health care. Join us and make a pledge, big or small, to improve compassionate quality care and inspire positive change within the health system.
More information is available at www.changedayontario.ca.
| | |
| --- | --- |
| | Hannele Kivinen at 3:32 PM |
| | |
| --- | --- |
| Calling all Patients & Caregivers! | Tuesday, September 5, 2017 |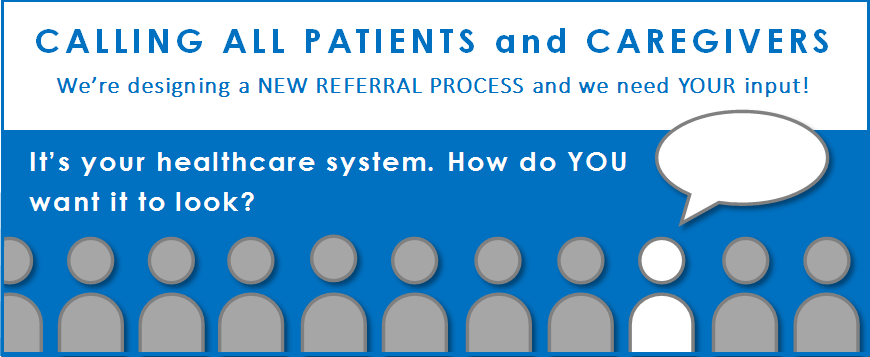 ​
Do you find the healthcare system confusing to navigate?
Would you like easier access to the services you need?
Do you want to feel more informed?
Do you want to have a voice in making improvements?
If you answered yes to any of these questions, please consider joining our patient and caregiver working group!
As you may have read in the news, the System Coordinated Access program in the Waterloo Wellington region is designing a new electronic referral system and patient portal that will make it easier for you and your healthcare providers to know what services are available and how you can access them.
We're putting together a working group of patients and caregivers to help us create a tool that works for you!
What's involved?
You'll meet with our design team on a bi-monthly basis for approximately two hours to test the tool and give your input. Travel expenses will be compensated.
If you are interested, please get in touch: email info@ehealthce.ca or call (519) 885-0606 x1040
| | |
| --- | --- |
| | Hannele Kivinen at 3:45 PM |
| | |
| --- | --- |
| Updates to Chronic Heart Failure (CHF) Tool | Tuesday, August 29, 2017 |
Endorsed by the Regional Cardiac Council and Cardiac Care Network and built in a SOAP note format, this custom form offered by the eHealth Centre of Excellence's QBIC (Quality Based Improvements in Care) program is designed to provide clinical decision support for  management of heart failure directly in the clinician's electronic medical record (EMR) with the New York Heart Association Classification used to determine the best practices for treatment of heart failure.
Based on the assessment, the template will help with determining which plan is most appropriate for your patient, with a plan section that includes triple therapy medication options and recommendations.
Recent updates to the tool include:

Updated medications to show the addition of Ivabradine (for management of stable heart related chest pain and heart failure not fully managed by beta blockers), and LCZ696 (Entresto) a combination of sacubitril and valsartan to replace ACEi or ARB in some cases
Included a notice to wait 36 hours before starting LCZ696 (Entresto)
Added link to eConsult (https://otnhub.ca/) at the bottom of form
Added forms for local referrals 
And more!
To learn more about these updates or to get set up with the CHF tool, please contact QBIC Change Management Specialist Rob Gordon at Rob.Gordon@ehealthCE.ca.
| | |
| --- | --- |
| | Hannele Kivinen at 2:34 PM |
| | |
| --- | --- |
| Depression and Anxiety Encounter Assistant Now Available | Monday, August 28, 2017 |
The Depression and Anxiety Encounter Assistant (EA) tool is a point-and-click template that supports clinicians using electronic medical records (EMRs) in the screening and management of mental health. 

The tool focuses primarily on depression and anxiety, and incorporates guidelines and recommendations from:

The EA tool links to resources for prescribing and switching different medications, and helps with recording and tracking relevant metrics such as the PHQ-9, GAD-7, SDS and LEAPS. It is compatible with the Ocean platform, and portions of the tool can be automatically populated with information provided by the patient on the tablet.

The tool was built by the eHealth Centre of Excellence's QBIC (Quality Based Improvements in Care) team, in collaboration with clinicians and members of the Guelph Family Health Team (FHT). Dr. Joan Chan was very involved in the development of the tool, and has this to say about it: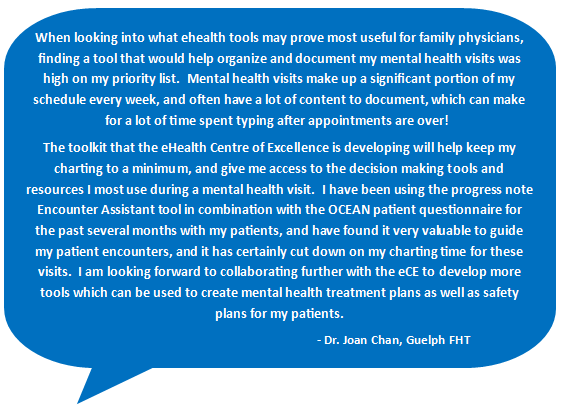 For more information on the Depression and Anxiety EA tool, please contact QBIC Change Management Specialist Stephanie Chin at Stephanie.Chin@ehealthCE.ca. 

| | |
| --- | --- |
| | Hannele Kivinen at 3:53 PM |
| | |
| --- | --- |
| cSWO August 2017 Update | Tuesday, August 22, 2017 |
Please click here to download the PDF.
| | |
| --- | --- |
| | Hannele Kivinen at 1:45 PM |
| | |
| --- | --- |
| eCE Staff Members Get Prosci Certified in Change Management | Monday, August 21, 2017 |
This past month, eHealth Centre of Excellence (eCE) staff members from the connecting South West Ontario (cSWO) Program, System Coordinated Access (SCA), and QBIC (Quality Based Improvements in Care) took part in Prosci's 3-day Certification Program designed for employees that are responsible for change management activities.
Prosci is a holistic, goal-oriented approach to change management that uses the ADKAR® model, an acronym which spells out the five-stepped process that an individual must go through in order for any change to be implemented successfully (see image, left).

 

During the training, participating staff members worked through a number of exercises and scenarios, during which they would employ the ADKAR model as well as other Prosci assessment/scoring tools – such as the Prosci Project Change Triangle (PCT) – to effect sustainable change.

 

"When it comes to deploying digital health tools to healthcare providers across the region, the Prosci certification will really help us to use a phased approach to change management," says Jessica Lemon, cSWO Change Management Specialist for Waterloo Wellington. 
The Prosci method focuses on achieving organizational change at the level of the individual. "It's all about meeting the healthcare provider where they are, and supporting them to adopt technology in a way that makes sense for them."
For Jessica and the rest of the eCE team, the Prosci training complemented their previous expertise in change management and has given them an enhanced outlook. Says Jessica:  "We're really excited to get back out in the field and start re-engaging our stakeholders using the ADKAR model and other Prosci tools."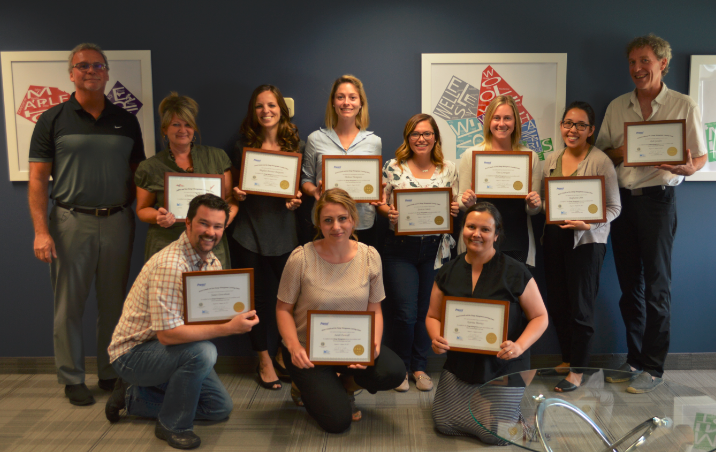 Congratulations to all staff members who received their Prosci certification!
| | |
| --- | --- |
| | Hannele Kivinen at 12:44 PM |
| | |
| --- | --- |
| eReferral Has Gone Live in Waterloo Wellington! | Tuesday, August 15, 2017 |
On August 14, 2017, electronic referral (eReferral) went live within the Waterloo Wellington Local Health Integration Network (WWLHIN).  Early adopters in primary care are now able to use the Ocean eReferral Network to send referrals to participating orthopedic specialists, orthopedic central intake, diabetes programs and specialists, and self-management services in the region. This enhances the services that were already available through the Ocean eReferral Network over the last few years.

 

Over the coming months, the program will be turning its attention towards scaling the solution to a broader group of primary care users.  This work will also include adding additional referral recipients with initial focus on diagnostic imaging, mental health and addictions, specialized geriatric services and integration with Caredove to allow for improved access to community support services.

 

Anyone interested in learning more about the SCA program or wanting to sign up for Ocean eReferral should please contact SCA Program Manager Lori Moran at Lori.Moran@ehealthCE.ca.
| | |
| --- | --- |
| | Hannele Kivinen at 3:45 PM |
| | |
| --- | --- |
| Announcement from the MOHLTC: SCA Program and eReferral are Expanding! | Thursday, August 10, 2017 |
The ministry has announced the release of new online tools to improve patient experience, including enhanced wait times reporting and information sharing between health care organizations and patients.  We are excited to share as part of this announcement the province is investing $12.9 million over two years to support the expansion of the eHealth Centre of Excellence System Coordinated Access program model and the recently implemented Waterloo Wellington electronic referral (eReferral) system to additional LHINs.

 
| | |
| --- | --- |
| | Hannele Kivinen at 11:38 AM |
| | |
| --- | --- |
| In the News: System Coordinated Access Supporting Quicker Referrals to Orthopedic Care | Monday, July 31, 2017 |
A recent article that ran in both the Kitchener Post and the Waterloo Record highlighted the central intake and electronic referral (eReferral) model that the eHealth Centre of Excellence's System Coordinated Access (SCA) program is currently supporting. This model has been developed as one of the strategies to reduce the long wait times faced by patients residing in the Waterloo Wellington Local Health Integration Network (WWLHIN) who need access to specialized orthopedic care. 

 

In the current state, primary care doctors rely on fax machines to send referrals to orthopedic specialists, and have no way of knowing which surgeon has the shortest wait time. For this reason, they may send multiple referrals to different specialists across the region, which ends up making the waiting lists even longer.

 

In order to decrease wait times, the SCA program has been working in partnership with the Waterloo Wellington Regional Coordination Centre (RCC) to expand their already successful central intake model for diabetes referral to include orthopedic central intake (OCI). This system allows a family doctor to send a referral to the OCI who then ensures all the supporting documentation and tests are attached, duplicate referrals are removed from the queue and the referral is sent along to the appropriate surgeon.  
As the article notes, specialists often complain that the referrals they receive are incomplete and don't contain the required information. This can lead to a further delay in the patient receiving the treatment they need.
To make this referral process even more streamlined and seamless, the SCA program has selected a vendor – a consortium of Think Research, CognisantMD, and the Centre for Effective Practice – to build an eReferral platform that will replace paper-based and fax processes and enable family doctors to make secure, online referrals to OCI and other healthcare specialists and services directly from the electronic medical records (EMRs).
The new system – called the Ocean eReferral Network – will allow doctors to track the status of the referral within their EMR with automatic notifications being sent to the patient all along the process.  The system will also give the RCC access to data that will allow them to forward referrals to the surgeon with the shortest wait list.

 

The SCA program is now in process of deploying the Ocean eReferral Network to family doctors as well as orthopedic specialists and hospitals that provide orthopedic surgeries throughout the WWLHIN, with plans to integrate other healthcare services in the near future.
Zach Weston, Manager of Performance at the WWLHIN, spoke to the potential for expansion of this model.
"This is the model of care we anticipate will be used for access to all specialties," he said. "Our target right now is orthopedics. We've got long waits that are a priority for our LHIN to improve, but we anticipate that this will be the approach that we see with ophthalmology, for example, for cardiology, etcetera."
If you have questions, please contact SCA Program Manager Lori Moran, at Lori.Moran@ehealthCE.ca.
| | |
| --- | --- |
| | Hannele Kivinen at 11:45 AM |
Contributors
Latest Posts
Archive
2017

September

July

June

May

April

March

February

January

2016

December

November

October

September

August

July

June

May

April

March

February

January

2015

December

November

October

September

August

July

April

March

February

January

2014
Tags
Everything
eCE Newsletter
cSWO Update
cSWO Notice
ClinicalConnect
HRM
SCA Program
QBIC
Benefits Realization
Workshops
eCE Events
Partnerships in eHealth Event
In the News
Telehealthcare
eConsult Spotlight